Define Your Upper Body with an Arm Lift
Dr. Anya Kishinevsky offers both traditional and mini arm lift procedures at her Darien, CT, practice. This surgery, also known as brachioplasty, can tighten and enhance the contours of your upper arms. If you have lost a significant amount of weight, this can sometimes lead to excess tissue in your upper arm area. Dr. Kishinevsky's expertise and attention to detail can help you enjoy subtle, natural results that enhance your overall appearance. Additionally, Dr. Kishinevsky uses methods that reduce visible scarring after surgery.
What Is an Arm Lift?
Arm lifts are highly customized body contouring procedures. During the surgery, Dr. Kishinevsky will trim away stretched, hanging skin. Two types of arm lifts are available, and Dr. Kishinevsky will carefully determine the most appropriate procedure for you:
A full arm lift, also known as a traditional arm lift, is designed to remove large amounts of skin. During this procedure, she will create an incision running along the back or inside of your arm.
A mini arm lift may be suitable if you only have a moderate amount of sagging skin. Often, Dr. Kishinevsky can perform this procedure with a small incision in your armpit. A mini arm lift is more affordable and less invasive than a full arm lift.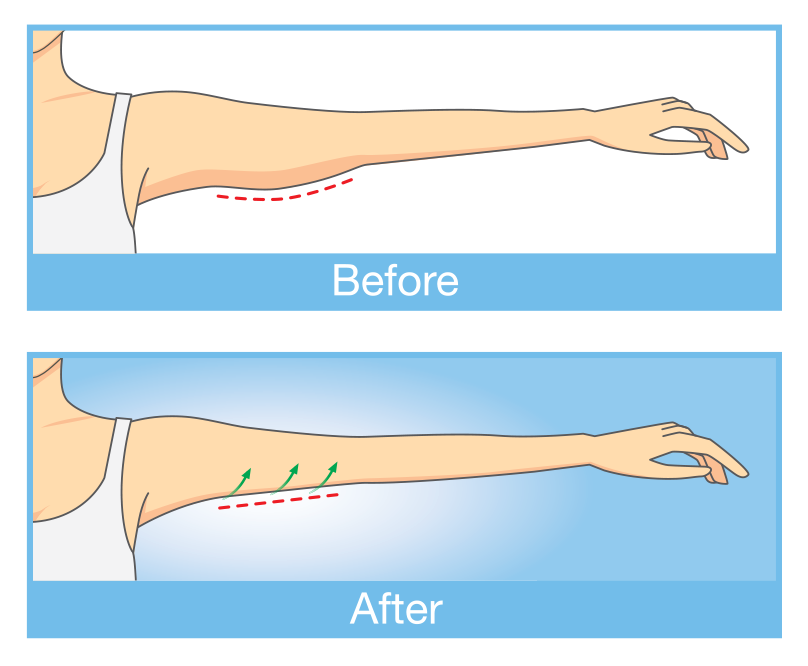 Are You an Arm Lift Candidate?
If you desire firmer, more defined arms, you may be a good candidate for brachioplasty. The procedure can be especially beneficial if you have recently lost a significant amount of weight. However, an arm lift is not a weight loss procedure. To qualify, you should already be at a healthy, stable weight. If your weight is fluctuating, or if you plan to lose additional weight, you should postpone your arm lift surgery.
If you are dissatisfied with the look of your upper arms, or have recently lost a significant amount of weight, an arm lift may be the right procedure for you.
Your general health is another important consideration when determining your candidacy for arm lift surgery. If you suffer from diabetes, a blood disorder, an autoimmune disease, or other chronic condition, it may be more difficult for you to heal after surgery. During your consultation, Dr. Kishinevsky will review your overall health, as well as address any questions and concerns you have.
Your Procedure and Recovery
Your arm lift surgery will typically take place under general anesthesia. Based on your procedure type, Dr. Kishinevsky will create a curved or z-shaped incision to help minimize visible scarring. Next, she will trim sagging or excess tissue. If desired, Dr. Kishinevsky may perform liposuction to remove isolated pockets of fat. Once the desired look is achieved, Dr. Kishinevsky will close the incisions with sutures.
You can return home the same day of your surgery, since an arm lift is an outpatient procedure. However, you should plan to take at least two weeks off from work, and get plenty of rest. For the first few days of recovery, you should keep your arms elevated and change your bandages frequently.
You should maintain all follow-up appointments with Dr. Kishinevsky, so that she can monitor your progress and ensure your safety. She will also talk to you about when you can return to your normal activities. Patients can typically resume most exercise about one month after their procedure, but should refrain from running and heavy lifting for about six weeks.
Schedule Your Cosmetic Consultation
If you are dissatisfied with the look of your upper arms, or have recently lost a significant amount of weight, an arm lift may be the right procedure for you. To learn more about how an arm lift can deliver a more slim, toned silhouette, contact Dr. Kishinevsky's practice today.